Our long awaited alpha launch is finally here. This is the result of countless hours of work alongside our community, and the beginning of a long and successful journey.

But before jumping straight into the game, let's answer some of the questions you might have.
The NFT collections
Where can I get 9Tales NFTs?
There are currently two 9tales collections:
Apart from earning in the alpha version, what are the other perks of the 9Tales NFTs? You can read about the other perks of the 9Tales NFT collections here.
The game
How to play the game?
The alpha version is free to play, you can access it directly from our website here.
Do I need to connect a wallet to play the game?
You can play without connecting a wallet. If you connect your wallet you will have access to our YDFA coins and you will be able to save your progress later on. Moreover, we heard that people who participate using their wallet might get a surprise later.
If you are new to crypto and want to open a wallet, check this tutorial
When will we have new features in the game?
We will add new features to 9Tales once every week or two weeks. And we will try to keep this pace for a long time. After our launch the features you can expect are: Additional decks and cards. UX and UI improvements. More and better SFX. More and better VFX. A way to interact with spell in game. A unique survival mode with ranking. PVP …
Earning in 9Tales
What is YDFA?
YDFA is the token of our alpha version. The sole purpose of YDFA is to unlock mystery boxes which contain valuable rewards.
How can I earn YDFA?
You can earn YDFA by winning games inside 9tales, however, not everyone is eligible to earn. In order to be eligible you can:
Be a 9Tales holder, depending on the generation (and later on on the rarity too) of your NFT you will be eligible to earn YDFA. Our holders get the highest allowance of YDFA
Have an allowance of one of our partnered projects, in that case we have received your wallet and you can earn a set amount of YDFA per day.
You can also win more daily allocation by completing missions in our Discord server (Provide feedback about the Alpha, follow and tweet about 9Tales socials, bug bounties, …)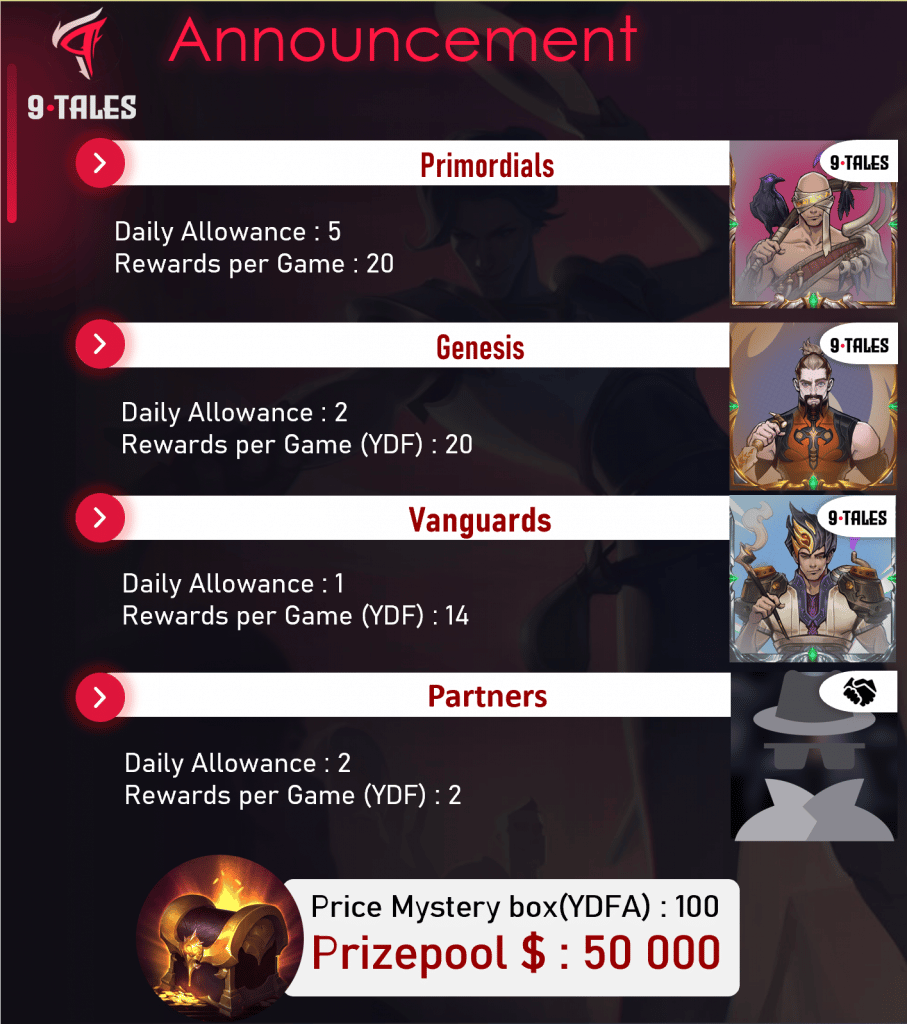 I earned YDFA, how can I use it to buy mystery boxes?
You will be able to claim your YDFA once every week. During our first week we only open the claiming for our holders, non-holders will have claiming opened two weeks after our launch.

You will need a small amount of matic to pay for your transaction, just a few cents will do
I got a mystery box, what can I do with it?
Congratulations! Your mystery box is an NFT, so you can either trade it on any NFT marketplace, or you can open it and see what's inside. The list of potential prizes can be seen directly in our marketplace.
Is there an exchange listing YDFA?
Although YDFA is a cryptocurrency, we are distributing it for the sole purpose of rewarding our early adopter in the alpha version. We have not listed YDFA in any exchange, and we do not endorse any liquidity pool created for YDFA. We do not promise any financial returns on YDFA and we do not plan on selling or promoting YDFA as an investment vector.
Feedback form
Have any feedback about the alpha version of the game, fill out this form and we might have something in store for you: https://forms.gle/y1C15qwv4uuLPevP6
Bugs form
Spotted a bug in the alpha version of the game, fill out this form and we might have something in store for you: https://forms.gle/EXDEgKavtQ3YQ6Vg6